Tanvi Dubey from YourStory wrote about Kavita's entrepreneurial journey. You can read more here or online
Kavita Nehemiah's belief in financial inclusion as a transformative solution to poverty pushed her to start up. As COO of Bengaluru-based Artoo, she plays a key role in enabling small businesses' access to funds.
"Technology for those who need it the most" was Kavita Nehemiah's aim, and this was what primarily led her to start Artoo, a fintech firm that is revolutionising lending to the smallest entrepreneurs by equipping loan officers with intelligent technology, at the borrower's doorstep.
The MSME sector is one of the largest sources of employment in India; however, it is a sector that spans mostly rural India, and while small businesses are always in need of capital and funding, their lack of technology stops them from getting access to said funds.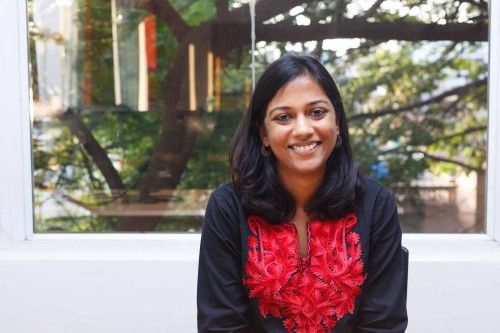 Kavita's strong belief in financial inclusion as a transformative solution to poverty drove her to launch Artoo. The company draws its name from the R2-D2 robot character in the Star Wars franchise, as, according to Kavita, "What R2-D2 is to Luke Skywalker, Artoo is to our clients."
"It is intelligent, and is always by your side, providing solutions," she says.
We spoke to Kavita to know more about her journey with microfinance and fintech and her desire to leverage technology to make lending and borrowing easy.
Digitalisation at the doorstep
According to Kavita, there is an estimated annual funding gap of $30 billion between what MFIs and traditional banks are able and willing to lend, and the demand from potential borrowers, presenting a huge opportunity for lenders. Artoo works with lenders by equipping their loan officers with intelligent technology, which allows them to capture unique, notional data about the borrowers and their businesses, at their doorstep, therefore enabling lenders to make informed lending decisions.
Starting up to make an impact
The 30-year-old, who is currently based in Bengaluru, where Artoo is headquartered, is an alumnus of St. Stephen's College, Delhi, where she studied Economics and graduated in 2007. Born in Vellore in Tamil Nadu, she spent her formative years in a boarding school in Ooty. The boarding school experience and seeing her father set up a business in the small, underdeveloped town of Ranipet, a few kilometers away from Vellore, where her family lived, left a lasting impression on her. "The transformation it brought about in the area in terms of employment opportunities and economic development deeply influenced me," she says.
Soon after her graduation, she joined the then fledgling microfinance institution Ujjivan Financial Services, which is now a finance bank. From credit and risk analysis to product development, Kavita essayed various roles. She was instrumental in launching their lending vertical — loans of a larger ticket size, for entrepreneurial customers who had larger credit needs.
"I was always passionate about market-based approaches to poverty alleviation. My work at Ujjivan fueled my enthusiasm towards financial inclusion as a means of empowering the underserved. As I was setting up the new lending vertical at Ujjivan, I realised that the process was predominantly paper-based and resource-intensive, and could be made significantly more effective and impactful with the help of technology. Sameer Segal, who was interning at Ujjivan with me, shared my vision."
So, after Kavita graduated from Cornell in 2012, she joined Sameer, the Founder and CEO of Artoo. As COO, she oversees customer success, marketing and communications, finance, and HR.
Initial hiccups
In her initial days as an entrepreneur, Kavita faced multiple challenges.
Breaking into financial services with cutting edge technology and trying to convince conventional financial institutions to buy into our vision was tough,
she says. Given that they armed their field agents with smartphones, at a time when they were not so commonplace, invited a lot of resistance initially.
This was not all. She recalls, "After we got onboard our initial set of clients, we realised that supporting them would not be easy with our original team of under five people. Unlike with the selling of banking technology, the users of our solution were first-time tech users who, at best, had a high school education. Improving adoption of the technology, therefore, meant being able to provide multilingual training and user support to these end users. So our next challenge was growing the team from the initial set of five to the 21 members we have today." In early-2015, they received funding to the tune of $500,000 (Rs 3.1 crore) in a Series A round from Accion Venture Labs and
So our next challenge was growing the team from the initial set of five to the 21 members we have today." In early-2015, they received funding to the tune of $500,000 (Rs 3.1 crore) in a Series A round from Accion Venture Labs and Rianta Capital's Artha initiative, which was used primarily for expansion and increasing the team size.
Being different
Artoo is an Android and web-based solution that allows lenders to manage the entire customer lifecycle — from lead generation to onboarding, to credit underwriting, and finally disbursement — on a single platform. Field users are equipped with an Android app, and backend users with a web interface. Each interface is carefully customised for different roles and users.
Kavita explains how within the MSME sector their focus is primarily on those who deal with a cash economy, such as vendors, local kirana stores, small hotels, and salons, and require loans between Rs 1 lakh and Rs 15 lakh. "These borrowers," says Kavita, "are largely underserved — the ticket size being too large for microfinance institutions, and the lending being too risky for banks, primarily because they have no documented sources of income. This makes credit assessment difficult. What sets us apart is that we have tapped into this overlooked segment, by empowering lenders with the intelligence to perform superior credit risk assessment and lend to this section of borrowers."
Data collection is both quantitative and qualitative, and looks at family structures, family members, earnings, details such as purchase habits, and so on to determine the creditworthiness of the borrower.
Emerging trends post-demonetisation
Demonetisation has greatly impacted the country, especially small businesses that dealt with cash-only transactions. However, Kavita says, on a positive note,
Demonetisation has provided a significant boost to digital transactions with even local shopkeepers and auto-drivers embracing digital wallets. These changes have forced us to be proactive and customise our product to cater to the evolving ecosystem.
According to Kavita, post-demonetisation, the emerging trends in fintech will be triggered by the changing regulations — small finance banks, payments banks, India Stack (riding on Aadhaar) with eKYC, eSign, DigiLocker, and so on, everything will change. She says, "The influx of digital data that has begun since the announcement of demonetisation will spur a host of technical innovations, as well as the customisation of services for consumers. However, this will need stringent regulations and compliances."
Women in the fintech sector
While financial services and technology are both primarily male-dominated industries, Kavita has had the opportunity to work with both men and women who recognise her as an equal. However, she points out that people are quick to stereotype women who are confident and articulate as being bossy. "Women tend to take a backseat in the boardroom and allow their male colleagues to take the lead, as they are conscious that women leaders are perceived this way," she says.
Making time for oneself
As an entrepreneur, the one thing that is non-negotiable for Kavita is making time for herself. "I follow a simple rule — when I'm not at work, I focus 100 percent on not working, and concentrate on my time with my family."
Watching Artoo grow every day keeps her driven, and she says,
Whether it's a new client we acquire or a new feature we develop on our platform, it keeps encouraging me to do more.