Artoo was delighted to be a part of CGAP's recent, invite-only event held in Mumbai. It was interesting to share space with YES Bank, RBL, Capital Float, as well as other new payment banks, such as SBI-Reliance, Sun Pharma, and Aditya Birla Group. Together, it was a great representation of the ecosystem under one roof. While the workshop explored the rise of digital credit in global markets, issues, and infrastructure fundamentals revolving around digital credit, the idea was to improve borrower experience without dramatically changing the economics simultaneously. How does this work for India? Is the moment now?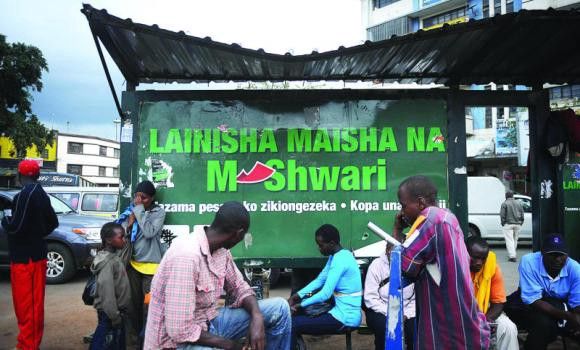 M-Shwari is a paperless banking service offered through M-PESA by Safaricom. M-Shwari added 1 million customers in 6 months and 10 million in 2 years. Day 1 of M-Shwari launch saw a registration of 40K applicants, a landmark for any app installed.
Interestingly, India has the largest share of the world's unbanked at 22%; with 36M MFI borrowers at present, it is expected to grow at a rate of 30%–50% in the coming days. There is a huge opportunity for us in this space. The banking sector is used to a lot of restrictions.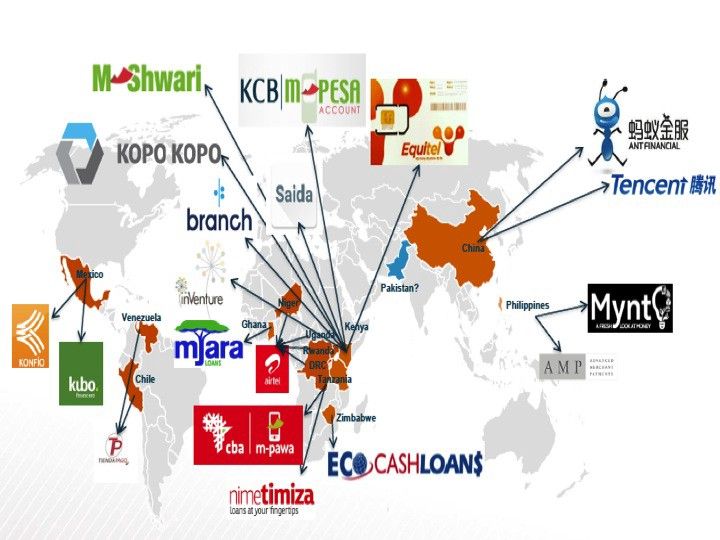 Global trend. Source: CGAP.
India Stack is a viable alternative that has managed to include Aadhaar for Authentication, e-KYC documents, e-Signature, and Unified Payment Interface (UPI), which is compliant and available to everyone.
As a forerunner of digital services, we at Artoo believe that India Stack opens up endless possibilities for developers, who will now be able to create and develop products and enterprises for the flourishing smartphone market in India. The MSME sector is another evolving space that has immense potential and opportunities and is of huge interest to us.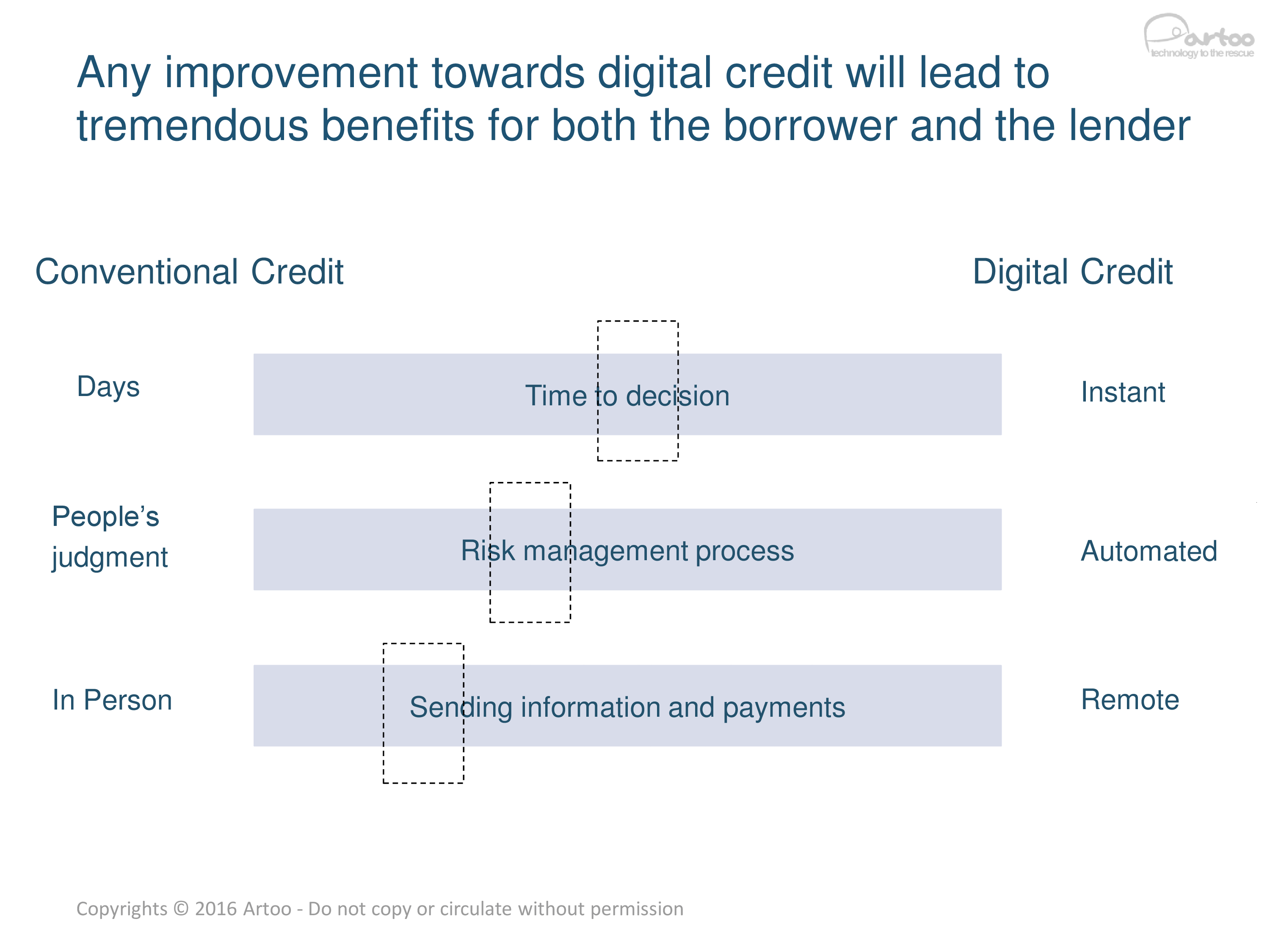 Digital Credit. Source: CGAP.
Anand Raman of CGAP presented the current role of digital credit and how it fared against conventional credit. He also spoke about Airtel Timiza, established in partnership with JUMO (the micro-financing unit of Cape Town-based AFB Pvt Ltd.), that is currently available in Tanzania. Salient features of Timiza include loans without savings and deposits, pre-approved instant loans, option to borrow higher subsequent loans depending on previous cleared loans, and affordable interest rates. The loan amount depends on your Airtel money usage. This is a salient example of how new-age lending provides cashless, affordable loans to the masses — a trend that is here to stay. In addition, these services provide greater flexibility and opportunities, thus empowering the borrower.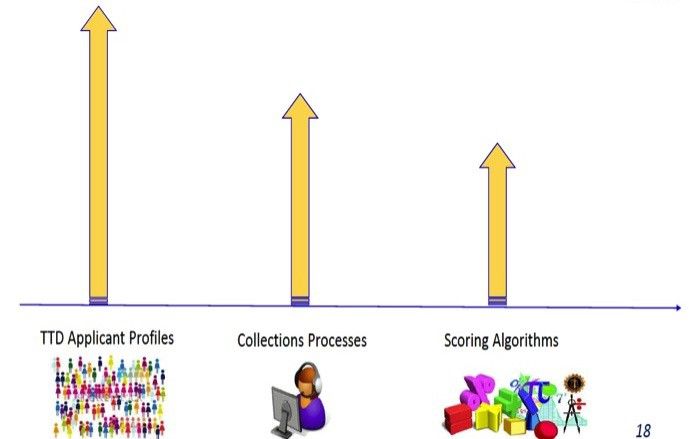 Key bad-debt drivers. Source: CETA.
Credit scoring, is the heart of any digital lending solution — or so we thought. Jamal E Rahal, spoke about his experience of creating M-Shwari's first credit scorecard. The strategic partnership between Commercial bank of Africa and Safaricom has fuelled M-Shwari's outreach across Africa. He spoke that Credit Scoring is a only one part of the risk management framework. The more important ones are Through The Door (TTD) — initial eligibility criteria — and Collections Process. This was a real eye opener.
At the event, Telenor provided an example of how it leverages Telecom data to provide digital financial services in Pakistan, Bangladesh, Serbia, and Malaysia. An elderly women in Pakistan, say 65 yrs, has limited movement, uses religious soundtracks as her caller tune, and make regular calls to Saudi Arabia. The outcome was a special Hajj package loan. Then, they provided insurance for Air Travel as well as remittance products. Another idea was providing Health Insurance for these travellers.
For FinTech firms like ours, it helps us position ourselves better among the traditional players in the market and is an opportunity to provide game-changing solutions. Currently, we are excited about the developments in the MSME space. We have already created prototypes for it and are working on a pilot.
Overall, it was thrilling to be a part of such a peer group that is bringing the future today.
About the author: