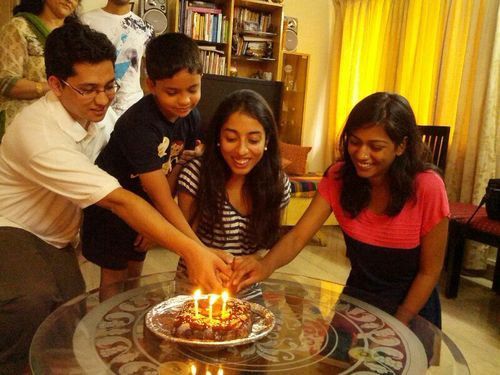 Happy 3 year-old Artoo!
It's been five years but I can remember vividly how heady, nervy and alive I felt just listening to Sameer talk about his internship at Ujjivan that first summer. It was 2008, two years after Muhammad Yunus and Grameen Bank won the Nobel Peace Prize. Sameer had read Banker to the Poor and he was thrilled to have got his foot in the door and be working in this exciting new world of microfinance. Ujjivan had given him a wonderfully open-ended project. He was to go out into the field, talk to their end customers, and come up with ways to improve their service quality. He would come back from work full of stories from the field about the lively, resilient and wise working-poor women he met. He would go to sleep each night imagining how Ujjivan could continue to improve the quality of their lives and wake up each morning with new ideas to suggest. He had a nagging sense that technology could do so much more for them and the small experiments that he conducted at Ujjivan that summer seemed to confirm this.
One year later, the summer after we graduated from college in 2009, Sameer was back in the field. Rather shyly, always respectfully, he followed Ujjivan's field agents through slum lanes and low-income neighborhoods, an engineer turned ethnographer studying their operations and the lives of their end customers. He learned interesting things. He learned that money was an incredibly volatile commodity at the BoP: women, while choosing between MFIs, cared more about which MFI would provide them with their loans faster than they did about which MFI offered lower interest rates than the other. He learned that while microfinance was a wonderful thing it was the beginning: women, empowered by these new financial services, now wanted more (skill-building for themselves, information about their children's educational options, advice on health, etc.). MFIs, they said, had opened a window to the world for them. Sameer agreed.
By the next summer, with a little bit of disposable income from his day job, Sameer got a hold of a netbook, a touchscreen, and other things with which he began to design and dream up what he hoped would be a holistic field solution that would empower field agents of microfinance institutions to really open up a window to the world for their end customers. Quickly though, as more and more smartphones and tablets became available at better price points, Sameer decided to move away from hardware and into software. An electrical engineer by training, he started to teach himself how to code, reading up on the latest frameworks and languages, in an effort to build the most intuitive technology solutions for social enterprise field agents who (being quite similar in literacy and tech savvy to the end customers they served) he felt needed it the most of all. Soon Sameer realized that there was nothing he wanted to do more than work on this project all day long everyday. In May 2010, he decided to quit his day job and start Artoo. And he popped the BIG question, would I be his co-founder?
I said yes, of course. Because his passion was catching. I had begun to believe, as Sameer did, that technology could help social enterprises working at the BoP become bigger, brighter windows to the world for their end customers. A real window to the world is, perhaps, the most effective way for those curious and creative working-poor women to begin their climb out of poverty. For, as Virginia Woolf once said, "no human being should shut out the view." It all made perfect sense. But even as I said yes I wondered how I would contribute to this grand endeavor without any understanding of either technology or business. Sameer was patient, kind and completely convinced that it was enough that I believed. And believe I did. With each and every field visit, with each nervy pilot, I became more and more convinced that the window we were working on opening up was an incredibly important one. I decided to do whatever I could to contribute — and, over the last three years, I have done so many things I had never imagined I would or could do — coordinating a pilot while Sameer was out of the country, maintaining Artoo's accounts, writing newsletters, blog posts, website content, and other marketing collateral, and all things people related.
People have been both the most challenging and the best thing. It's been incredibly difficult for us to find people passionate enough about this difficult but enormously meaningful work to join us, make our vision their own and shape Artoo along with us. Sameer often says that building a core team is like getting married. Who joins the core team shapes the company in the same way that who you marry shapes your life. And, when we're interviewing, I often tease him that he never did woo me the way that he woos the people he really wants to join Artoo! But when the right person comes along, it's like magic. We're so grateful to everyone whose hard work at Artoo has helped us come this far, everyone who has been a part of Artoo for however long or short a time has shaped it. Most special thanks to Kavita, who came in when we were at rock bottom, made Artoo her own, and picked us up again with so much grace and brilliance. We've grown a lot over the years. Sameer's begun to find that sweet spot between hubris and humility. I feel that the last five years have made me both wide-eyed and a tiny bit wise. Little by little, I can't help but feel as if Artoo is coming of age.
We spent today, serendipitously, at Ujjivan where it all began, doing testing and training, gearing up for an ambitious upcoming project together (a much bigger and more hopeful experiment this summer). We broke for a celebratory lunch at our old favorite Delhi Food Point — jeera aloo, dal makhani, butter rotis, and masala coke. Returned to an afternoon of retrospection and reflection with prospective investors as part of their ongoing due diligence work on Artoo. We stopped for ice-cream at Corner House on our way back to office because, even in the midst of all this sometimes happy and sometimes frenetic pre-pilot, pre-fundraising, Sameer thought we must stop for a while to toast to Artoo turning three. And then we returned to our barsati office with chocolate, cold drinks, and strawberry jujubes, again courtesy Sameer's good cheer on Artoo's birthday, to settle back into work for the evening. No time to stop. But I was very tempted to take a little time off to do some retrospection and reflection of my own. To say — happy birthday, Artoo — an unusually enduring summer love that's shaped us.
About the author:
Indus Chadha | Co-founder & Storyteller