Shonali Advani recently wrote about Artoo in the Entrepreneur magazine — "read more" here or in their online edition.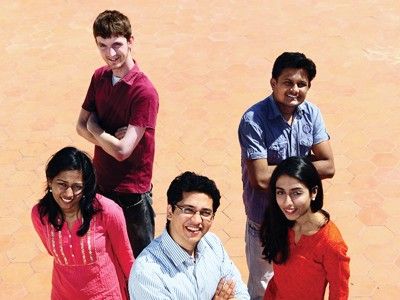 Photo Credit : Nilotpal Baruah
Sometimes, your so-called dream job may not inspire you or drive your zeal to succeed. That is when you recognize that your ambition and heart probably lie elsewhere. Back in 2008, as an electrical engineering intern at a large chipmaker company, Sameer Segal was in a similar situation. He was intrigued by the microfinance sector and got an opportunity to work at Ujjivan, the third largest microfinance institution in India, in the summer of 2008. He had found his calling, which then materialized into Bengaluru-based Artoo IT Solutions Pvt. Ltd. two years later.
Seeds of a summer
Segal, 25, was given a brief to improve the quality of service for an end-customer using technology. Here, he found himself gravitating towards the managerial side of things and undertook several field staff interviews to understand pain points.
Ujjivan was then offering a loan pre-closure service but no one was really utilizing it — largely because of hassles in relaying information.
Segal's solution was simple. He created a Short Messaging Service (SMS)-based technology where field agents could send an SMS to the database with a customer ID. Once the database accepted it, the field agent would receive a message instantly on the amount to be paid by the customer to pre-close the loan. The process that took a fortnight earlier was now instantaneous. Ujjivan bought the license for `50,000 from a third party SMS server provider to implement and scale it.
An overwhelming experience apart, Segal got valuable insights. "If you want to improve quality of service for base of the pyramid [BoP], you have to empower field agents to help the end customer. Technology should be an enabler," notes Segal, Founder and CEO, Artoo.
This became the core idea for his firm, which he launched in May 2010 with his wife Indus Chadha, 25, to create a software for microfinance and healthcare verticals.
The pilot phase
Artoo's product is an Android-based platform for mobiles and tablets that field agents use as a working tool. This software allows them to perform functions of customer acquisition, collections and real-time field analytics; thus giving managerial insights into day-to-day business.
Thanks to Ujjivan's support through a pilot in November 2010–March 2011, Artoo formally launched the product with 10 agents and one branch office for which they got paid Rs. 4.5 lakh. Next, they took the branch online.
A cost-benefit analysis, using Ujjivan numbers, showed it could result in savings of Rs. 72 crore which was 11 times their profit. "They could drop interest rates without affecting their profitability."
Commenting on the pilot results, Martin Pampilly, Head-Operations, Ujjivan Financial Services says, "The turnaround time reduced drastically to three days and in some cases to just 24 hours. There was a measure of time allocated for each activity."
Artoo's team, he mentions, had shadowed Ujjivan's staff and customized it to suit user needs.
One of the requirements was to support regional languages. Today, the platform supports 22 Indian languages through a virtual keyboard built by Reverie Language Technologies, which is also based in Bengaluru.
Seizing opportunity
In October 2010, the Andhra Pradesh microfinance crisis hit the sector. Segal thought this would make their proposition stronger because of the pressure to reduce interest rates and operating expenses. However, reality was different.
The industry came to a halt with the funding sources drying up. This forced them to look at other sectors, but only those organizations that worked for BoP. "Operationally their processes are different, so our product had to be flexible to meet their needs," explains Segal, who tactfully designed this feature on the Android operating system given the flexibility the ecosystem offers across 400 devices. Segal also wanted it to be holistic and not a solution to a single problem area.
From April 2011 to December 2012, Artoo got three other clients. It got Grameen Foundation, a microfinance institution which uses software to develop a course for middle managers with audio and video content and Brighter India Foundation, that works to promote transparency in governance by identifying a grassroots leader.
In December 2012, it got its first healthcare client, IKP Centre for Technologies in Public Health (ICTPH), a primary healthcare clinic in Chennai, that has deployed it on 10 mobile devices for rapid risk assessment of data for cardiovascular and diabetes. "We plan to cover 5,000 adults in two and a half months with 10 agents," says Ankit Jain, Assistant Vice President Operations, ICTPH.
Bindu Ananth, President for IFMR Trust, who is on Artoo's Advisory Board, says the solution helps streamline and integrate frontline functions with the rest of the organization. She says, "This is particularly relevant for geographically dispersed and decentralized operations. It converts a lot of fixed costs into variable costs and this is pertinent for small organizations."
Head-on approach
Field agents were comfortable with the technology and the product has an adoption time of two days.
Dealing with business heads has been the real challenge. "They look at technology as an investment, not an immediate solution, since they are under margin pressure," says Segal.
Artoo strengthened their approach, presenting it as a business solution, rather than a technology product, with a cost-benefit analysis at every level. "Clients became more receptive," he says. Segal spent at least three days with various departments across levels at a client's office.
Describing this as a free diagnostic check for an organization, Segal says, "Even if they did not choose us, it did not matter because it helped us understand the requirement of the sector for the next six months to one year."
Artoo's software is sold on a subscription basis — a monthly fee ranging from Rs. 500 to Rs. 1,500 per agent — where the amount is based on volumes which is useful for small and medium organizations. It will soon offer an annual license fee of Rs. 15 lakh to Rs. 25 lakh for customers with a larger agent network. Clients will have to pay an additional monthly usage fee of Rs. 350.
"Technology can never be a sustainable differentiator. It lies in the little tweaks and understanding of what works in a sector," Segal says.
Bright outlook
"By 2012, everyone wanted an Android solution, so things are looking brighter now," he says.
Their immediate focus is on consolidating themselves in financial inclusion, including the SME lending and healthcare verticals. "We want to go where banks can't go," says Segal.
Artoo will spend 2013 in creating more partnerships with backend providers, to bundle it as a package with core banking systems.
It is also mulling the idea of using voice as a medium. Overseas expansion and fund-raising are also on the horizon, says Segal. "Artoo will have to build a strong case for productivity impact of its solution with initial clients. Only then will diversification across more sectors will help de-risk," confirms Ananth.
Shonali Advani in the Entrepreneur Magazine