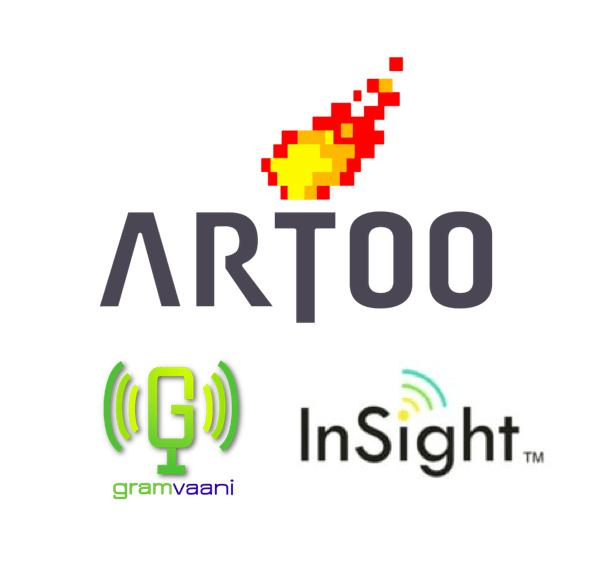 The Economic Times' article on technology for microfinance features Artoo — read more here or view the complete article in the ET online.
---
A new wave of start-up companies are building technology enabled services aimed at bridging the communication gap between borrowers and lenders in the embattled Indian microfinance industry.
These fledgling ventures are creating services across cloud and mobile platforms which include credit rating of micro borrowers, online data storage and community radio services that could provide a fresh fillip to a crisis-ridden industry.
India's Rs 26,000 crore microfinance sector has struggled since the Andhra Pradesh government promulgated an ordinance barring MFIs from recovering loans disbursed in the country's largest micro-lending market in October 2010.
"The problem with microfinance was that the cost of acquiring new clients was being loaded onto existing clients," said Puneet Gupta, chief executive of IFMR Capital, which owns Kshetriya Gramin Financial Services.
The launch of new innovative technology led services for data collation, analysis and setting up of critical back-end systems could help reverse this trend say industry executives.
InVenture, a 13-month old Bangalore-based start-up, helps microfinance borrowers by tracking their daily cash flow through text messages through its proprietary platform InSight. It then charts this data to create credit scores for individual borrowers. This data is sold to microfinance institutions (MFIs) and non-banking financial companies (NBFCs), as they look to reach out to greater number of the base of the pyramid population.
"It helps us undertake real time data monitoring, and plays a role in creating the right financial product that the customer needs", said Ramakrishna Nishtala, cofounder and chief operating officer, Vistaar Financial Services, one of the first MFIs to start using this service.
"It's early days yet, and customers have to become familiar with the process, but it has promise," he said. Vistaar, is running pilot programmes using the service in branches across Tamil Nadu and Karnataka.
"The beauty is we have been able to create a tool for the borrower as well as the lender. In the long run, it helps the customer's money management and helps them to be better borrowers," said Shivani Siroya, founder, InVenture.
The start-up which has raised risk capital and received grants from Vodafone is in talks with Chennai-based microfinance companies Equitas and Ashirvaad, to market its product according to Siroya.
"Our plan is to be the standard for credit scores in India. India's microfinance industry lacks the formal standards and organisation, and technology can create that financial transparency," she said.
Artoo, another technology start-up founded in 2010, offers communication technology to microfinance institutions on the Android and cloud platforms.
Its technology platform is designed to take the entire process of data collection and loan disbursement online, and helps microfinance field agents to remotely connect with the centralised operations of the MFI.
Bridging the Gap
Artoo has worked with urban microfinance company Ujjivan Financial Services and Bangalore-based Grameen Foundation, and its founders claim that its platform can significantly lower an MFI's operating expenses.
"We use android phones and tablets that connect to an organisations back-end, including core banking solutions and accounting systems, which will reduce a customer's turn around time, and can also lead to lower interest rates charged," Sameer Segal, co-founder of Artoo pointed out.
The lack of innovative technology has had a debilitating effect on the growth of the microfinance sector in India, especially in the fields of data collation, analysis and setting up of critical back-end systems.
The Reserve Bank of India has specified that a margin cap, not exceeding 10% for large MFIs with loan portfolios upward of Rs 100 crore, and 12% for the rest. This has forced micro-lenders to drastically reduce their operating expenses in their bid to stay afloat.
Started in 2009, Gram Vaani has taken a slightly different road.
The company is a technology provider to over 40 NGOs, aid agencies and social ventures, and offers a community radio platform, hosts voice solutions, such as phone surveys or community news platforms, to providers in verticals including health and education.
"For MFIs, we offer information shared voluntarily by users, community level qualitative data and surveys taken by users. We also track the progress of initiatives in the community, and there are currently no data products in the market which offer regular,structured feedback in the post-lending period," Roshan Nair, director of programmes at Gram Vaani said.
Gram Vaani, which is a co-recipient of a grant from the Rockefeller Foundation, is now working to develop sector useful data products for several sectors including health, agriculture and microfinance.
"One shortcoming which has effected MFIs thus far has been a lack of community engagement, which has led to lesser understanding of risk factors which are non-financial, community-level and qualitative. We offer such a solution," Nair said.