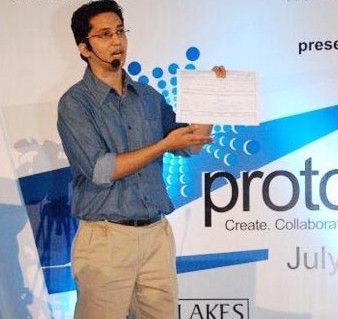 Sameer Segal, CEO and co-founder of Artoo
Rediff's article on Proto.in selecting Artoo as one of the 15 most promising startups in the country — read more here or on Rediff.
A glimpse into 15 most promising start-ups from India selected by Proto.in in association with Sequoia Capital and BSE Small and Medium Enterprises Exchange.
These start-ups were selected on the basis of the people behind them, the impact of their products in solving real world problems, the future potential of the product in terms of market size, the scalability of the start-up, business model, execution and wow factor.
Proto.in is a support platform for the Indian start-up community and these start-ups have been picked up after sifting through 101 entries.
\\\*
Company Name: Artoo IT Solutions Pvt Ltd
Product Name: Artoo Slate
Founder: Sameer Segal
Location: Bangalore
Incorporation Year: 2010
Stage of Funding: Personal, Friends and Family friends
Revenue Situation: No revenues yet
Team Size: 6
Product Summary: Artoo Slate is a software solution that tries to remove paper from any field intensive industry like Microfinance Institutions (MFIs) and Rural Healthcare. It captures rich data from the field, dose away with the back and forth of paper, avoids innumerable delays and drastically reduces expenses. Our framework enables field agents to operate remotely and helps distributed enterprises to centralize their operations. It is an intuitive interface that has been designed keeping in mind the field staff's limited educational training and exposure to technology.
Market Need: If you try to pitch to a Microfinance borrower a marginally lower interest rate product, they are most likely to ask you return "That's ok, but, how quickly can you get me my loan?" We are trying to removing the inefficiencies in field processes by talking the entire process online. We have validated through a pilot with Ujjivan Financial service pvt. Ltd that we can increase productivity by 35%, save them INR 74.4 Crore annually and reduce Turn-Around Time on loans to 2 days.
Target Market: Based on our pilot with Ujjivan Financial services Pvt Ltd, we can save the Indian Microfinance industry at list US $ 2.3 Billion in 2015. Our technology is not only portable across geographies and but could also be used in other industry verticals very easily.
Revenue Model: We have a volume based subscription fee (per field agent per month), which works out to less than 10% of the field agent cost. This fee covers hosting and basic customization while the enterprises can choose any Android enale device.
\\\*
Complete article available on Rediff