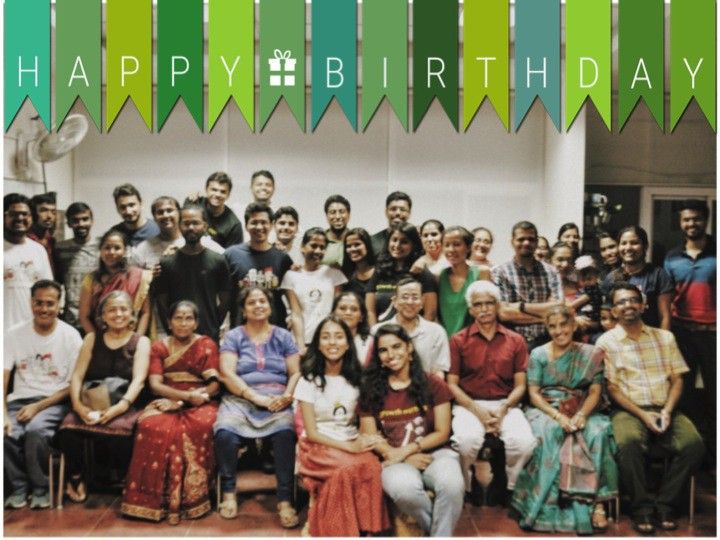 Birthdays are a time for reflection. It's a time to celebrate the creation of an entity and nurture its existence. Artoo birthdays are always special. It's an Artoo tradition to celebrate birthdays differently each year. Last year, it was a picnic on the rainiest day of the decade in Bengaluru, with football and barbecue in tow. True to our innovative self, this year we decided to have a video competition about Artoo's sixth birthday. The idea was to capture our wishes and hopes for Artoo as well as showcase why team Artoo is diverse and quirky. Although we had multiple projects going on in this month, we did find time to celebrate our birthday amidst all the serious work. Our families have been our support system since Day 1. It was wonderful to have them together again for a potluck evening with all of our friends. We were very pleased that our families and friends, could come to encourage us yet again, that too with all our favourite snacks.
The evening began with an introduction to Artoo by Sameer and Kavita — the work we do and the plans for the future. We became nostalgic of the year that had passed by when our milestone slideshow played. Each one of us came up to speak about one or more memory — fund raising, scaling to 400 branches and 4000 users, field visits, conferences, our rapidly growing team, and much more. We couldn't have felt prouder reminiscing all that such a small team was able to achieve in the last year. We ended the evening with a video collage of — investors, advisors, people of Artoo and friends of Artoo — wishing and sharing some wonderful moments and beautiful messages. Chetana and Anubhav were crowned the winners for their impeccable parody of team Artoo. It was funny, emotional, and a proud ride for us all at the same time us.
While we deck up the treehouse with love and fervour, we look back at all that we have done in the last 6 years. The one thing that has never changed at Artoo in these six long years is doing our best to make a difference for the better. We are driven by empathy and understanding that will translate into our products and services. But what matters most now is what we do next. The future belongs to those who create it, and we are committed to building a better future and be the voice of our users. We plan to disburse Rs. 3000 crore this year. With the simple principles in doing our business which we usually call them as "North Stars and guiding lights", we are built to last and are working on dramatically changing the business model to make field agents and borrowers happy and guide them to improve their quality of life. We long to see the day when our users are not just field agents but the borrowers themselves. In the early days of microfinance, we were entrepreneurs finding a new business model to serve our clients. Today, we feel the urge to rekindle our entrepreneurial spirit where we wish to partner with allies and build solutions for the future.
Cheers to many milestones in the making!