Recently, the Times of India and Economic Times featured us and our founder, Sameer, as part of the social entrepreneurship scene in India. Social entrepreneurs are driven by the social impact their businesses create. One of their primary goals is to create opportunities for the socially and economically excluded through technology. They seek to break economical and financial barriers by providing solutions in sectors such as healthcare, education, banking, and finance.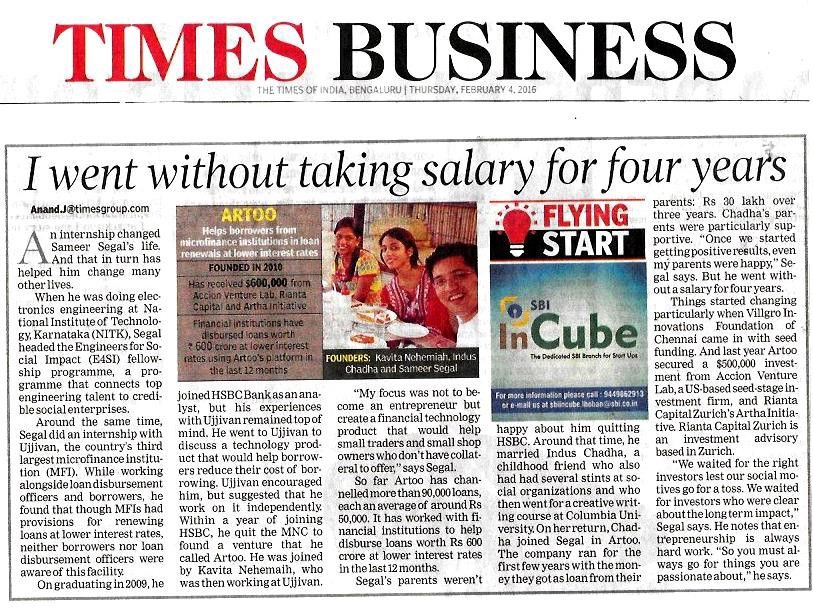 Artoo and Sameer: The founding years.
When Sameer was interning at Ujjivan, he discovered a solution for automating loan statuses, which allowed them to preclose and open one of a higher amount. Together with Kavita and Indus, Sameer conceived Artoo. They devised solutions that enable lending and borrowing on mobile and web platforms.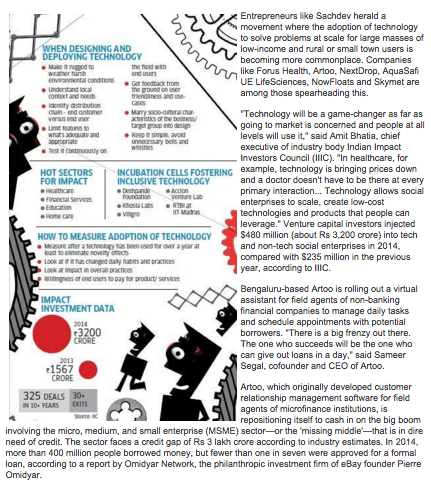 "There is a big frenzy out there. The one who succeeds will be the one who can give out loans in a day," said Sameer Segal, cofounder and CEO of Artoo". View the full article online here.
After five years of rigorous hard work and unabated zeal, we now work with several MFIs and NBFCs, assisting them with digital solutions for their entire lending processes. User verification, credit underwriting, and loan disbursement are now performed with a single tap in real time. Reduced workload and faster loan approval has delighted field officers and borrowers alike. Digital lending has paved the way for a new breed of tech-savvy service personnel and the empowered small-scale entrepreneur.
In 2015, we disbursed loans worth 600 crore rupees, in just 12 months. In this quest, after the initial financial support from family, we received 500,000$ funding from Accion Venture Lab and Rianta Capital. From an idea conceived as an intern to a full-fledged entrepreneur, Sameer has come a long way. At Artoo, we are a myriad bunch of geeks, rainmakers, firefighters, artists, and storytellers, who believe in creating a dent in the universe. It's this sense of belonging to a common cause that drives us to perform. We believe in the power of technology to unite the masses. Together, we aspire to go the distance, empowering people and spreading smiles all along.