Aparna Ghosh just wrote about Artoo in Live Mint — "read more" here or in their online edition.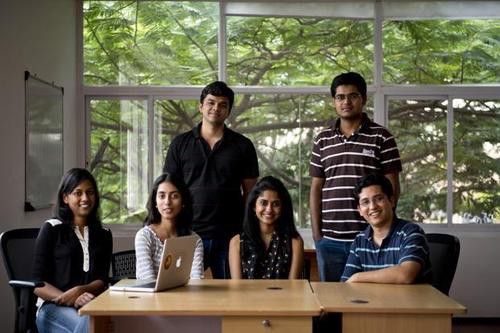 Photo Credit : Aniruddha Chowdhury
Android-based platform helps organizations connect better with their field agents, improving productivity
If you were a woman who desperately needs a small loan, would you look for an institution that offers the money at a rate that's slightly lower than industry standards or opt for one that disburses the amount significantly faster?
The answer is simple and Sameer Segal recognized it soon enough. The turnaround time has a huge impact on decision-making in the microfinance sector, which gives small loans to the unbanked poor.
Though Segal, 26, who had an undergraduate degree in electrical engineering from the National Institute of Technology Karnataka, Surathkal, had worked at large organizations like Texas Instruments Inc. and Hongkong and Shanghai Banking Corp. Ltd, his interest has been in microfinance.
His interest in microfinance began after he read the book Banker To The Poor by Nobel laureate Muhammad Yunus.
In 2008, Segal landed a summer internship in a popular microfinance institution Ujjivan Financial Services, where he was selected for a fellowship programme. He spent most of his two months on the field, working to find ways through which Ujjivan could improve its service quality.
Though Ujjivan provided customers with the option to pre-close existing loans, rarely did people ever use this option. Segal noticed that this was due to the large turnaround time organizations took to calculate the outstanding amount for a pre-closure. It took almost a fortnight for relaying this information.
"Ujjivan was ready to provide new loans for higher amounts once the old ones were pre-closed, but I realized that for people, the efficiency of a loan was about how quickly they got it. They did not want to wait," says Segal, who built an SMS-based technology for Ujjivan that could replace some of the time-consuming process of paper applications.
In the platform he built, when a field agent wanted to retrieve information about a customer, an SMS with the customer ID was sent to the database. Once the customer ID was verified, the field agent received an SMS with all the information pertaining to the customer and the amount to be repaid to pre-close the loan.
When Segal saw the impact that this had on the lives of the field agents, he realized that this was worth building on. This led to the founding in 2010 of Artoo IT Solutions Pvt. Ltd, a company that develops Android and cloud-based applications that run on mobile phones and tablet devices and allow enterprises to take all field processes online.
In 2011, Segal married Indus Chadha, co-founder of Artoo, who graduated from Columbia University with a Master's in creative writing. Chadha brought in varied expertise in women's studies and ethnography, which helped both of them to research and understand the base of the pyramid (BoP) — people living below the poverty line, most of whom do not have access to bank accounts — better than they had earlier.
Artoo's product is an Android-based platform for smart devices that field agents can use as a tool. The software allows them to perform various functions like customer enrolling, credit bureau checks, collections and data analytics, all in real time. This makes results and decisions available almost instantaneously.
The software enables agents to perform their tasks through an intuitive touch interface, connecting with the backend systems and teams. As a result, the organization is more connected with field agents, making for greater productivity and visibility on operations and data. The software helps reduce turnaround time by 50% and increase productivity of field agents by 60%.
"With each and every field visit, we become more convinced that our technology can help enterprises working at the BoP become more effective in helping their end customers climb out of poverty," says Chadha.
Some of the testimonials recorded in the past, as a part of a feedback exercise, were shared with Mint.
"From a product manager's perspective, it is a great pleasure to see loan officers complete an entire application within an hour. This has made my day," said Murli Manohar, product manager, Ujjivan, in a testimonial.
With the help of a tightly knit team, which helped research what can empower field agents and reduce costs, Segal realized that one result of a cut in costs was the possibility to offer loans at lower interest rates.
The pricing strategy is a "pay as you go" model and varies from monthly subscription rates per field agent to annual licences for clients with a large agent base. The company declined to disclose exact figures, but said the pricing depended on the scope of the project. The software can be used to provide services to three sectors: financial inclusion, primary healthcare and energy distribution.
Artoo started with an investment of Rs.40 lakh, raised from family and friends, and has generated close to Rs.80 lakh since its launch in 2010. Its three major clients are Ujjivan Financial Services; IKP Centre for Technologies in Public Health (ICTPH), a non-profit organization that facilitates primary healthcare in rural India, and Brighter India Foundation, a non-profit which says it's working to transform the political process.
"Artoo brings to life technical expertise, coupled with the ability to collaboratively adapt, be it healthcare, education or financial inclusion. Their entrepreneurial spirit and close attention to every engagement makes it an even more fulfilling experience for us," said Zeena Johar, president, ICTPH, in another recorded testimonial.
Aparna Ghosh in Live Mint & The Wall Street Journal