1. Wait until you're tired of your boring old workspace (this usually happens when you've been spending way too much time sitting at your desk, which means you've got A LOT of other things on on your plate too) and then begin persuading the rest of the team that you need a new collaborative workspace at the office — you need COLLY!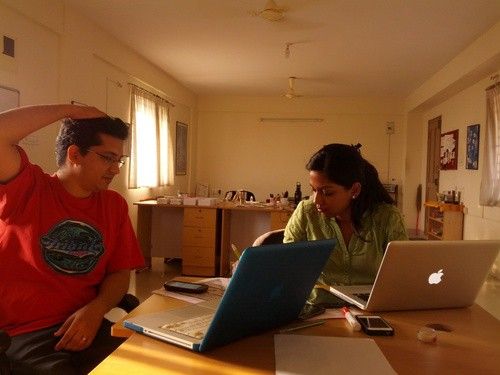 2. Spend your tea breaks doodling on white boards and imagining a desk where you will be happy again (use all the colorful markers you have and draw it out in as much detail as possible, hinges, adjustable heights, etc.) and then, once you've got a little bit more free time, convince your indulgent mother-in-law's carpenter to meet you on at least a couple of different Sunday mornings to help you build it.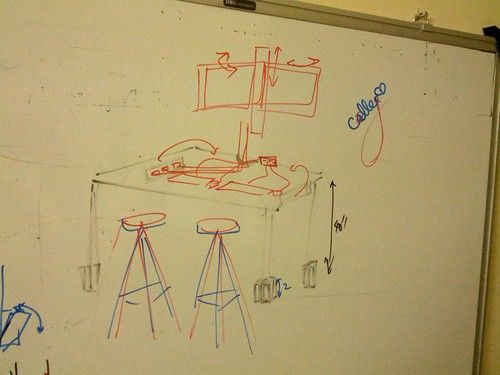 3. Make countless trips to SP Road on weekends to pick up all the electronic equipment you need (scout out the best deals in the back rooms of the smallest shops — the tiniest, most tucked away ones are often the dealers — all the while admiring how the intercom system between the shops works) and take along whoever agrees to come so you will have some help while carting back your screens, etc. especially if it's raining (but remember to reward them with snacks).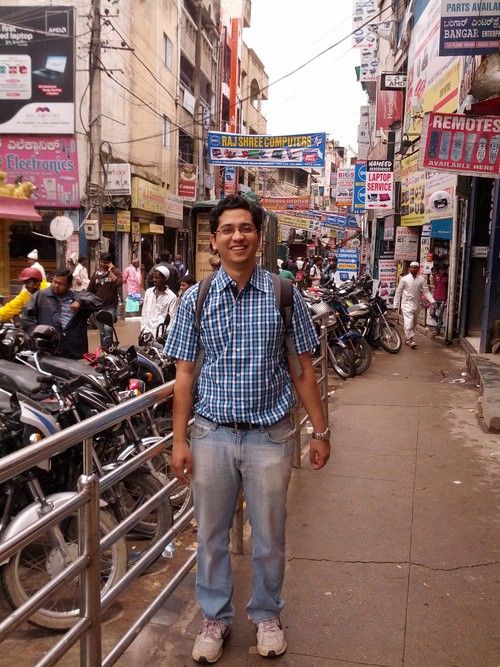 4. Bring each piece of the puzzle to office (usually on Mondays, there is no better antidote to Monday-morning-blues) and enlist the team's support to being assembling COLLY, little by little, first the desk, then the electrical wiring, then the wireless keyboard, then the screens, and finally the wireless trackpad (until you have it, beg, borrow, steal).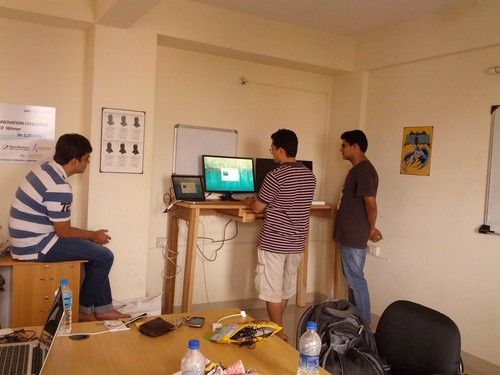 5. Once COLLY is ready, celebrate with idli vada on a coffee break, and begin pair programming. You will be amazed how happy you are!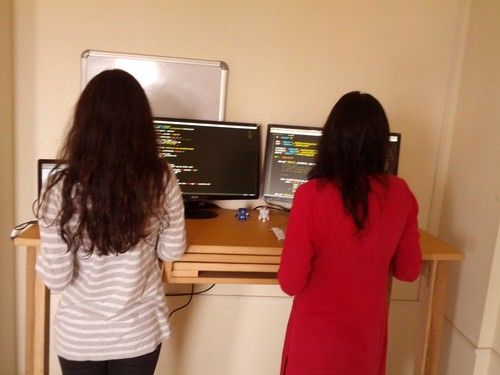 6. But don't forget that your whiteboard drawing had stools in it, otherwise your feet will hurt and you'll eventually get tired and have to sit down on chairs that are the wrong height… until you have some time over the following weekend to go scout out some stools!