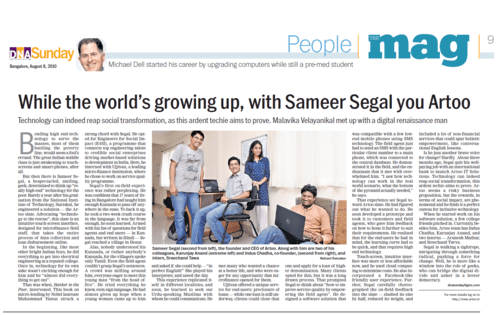 Malavika Velayanikal wrote about Sameer and his work at Artoo in DNA. Read the whole piece below here or in DNA.
Technology can indeed reap social transformation, as this ardent techie aims to prove. Malavika Velayanikal met up with a digital renaissance man.
Bending high end technology to serve the masses, most of them battling the poverty line, would seem a fool's errand. The great Indian middle class is just awakening to touch screens and smart-phones, after all.
But then there is Sameer Segal, a bespectacled, smiling, geek, determined to think up "really high-end" technology for the poor. Barely a year after his graduation from the National Institute of Technology, Suratkal, he engineered a solution — the Artoo slate. Advocating "technology to the rescue", this slate is an intuitive touch-screen interface, designed for microfinance field staff, that takes the entire process of data collection and loan disbursement online.
In the beginning, like most other bright Indian boys, he did everything to get into electrical engineering at a reputed college. Once in, technology for its own sake wasn't exciting enough for him and he "almost did everything to get out".
That was when, Banker to the Poor, intervened. This book on micro-lending by Nobel laureate Muhammad Yunus struck a strong chord with Segal. He opted for Engineers for Social Impact (E4SI), a program that connects top engineering talent to credible social enterprises driving market-based solutions to development in India. Here, he interned with Ujjivan, a leading micro-finance institution, where he chose to work on service quality program.
Segal's first on-field experience was rather perplexing. He was confident that 17 years of living in Bangalore had taught him enough Kannada to pass off anywhere in the state. To back it up,he took a two-week crash course in the language. It was far from enough, he soon learned. Armed with his list of questions for field agents and end users — in Kannada, but written in Hindi — Segal reached a village in Hosur.
Alas, nobody understood his Kannada, or rather anybody's Kannada, for the villagers spoke only Tamil. Even the field agent couldn't grasp Segal's sentences.A crowd was milling around him, everyone eager to meet this young man "from the head office". He tried everything he knew, even sign language. He had almost given up hope when a young woman came up to him and asked if she could help — "in perfect English!" She played his interpreter, and saved the day.
This experience replicated itself in different localities, and soon, he learned to seek out Urdu-speaking Muslims with whom he could communicate. He met many who wanted a chance at a better life, and who were eager for any opportunity that microfinance opened for them.
Ujjivan offered a unique service for end-users: preclosure of loans — while one loan is still underway, clients could close that one and apply for a loan of higher denomination. Many clients opted for this, but it was a long drawn process. That prompted Segal to think about "how to improve service quality by empowering the field agent". He designed a software solution that was compatible with a few low-end mobile phones using SMS technology. The field agent just had to send an SMS with the particular client number to a main phone, which was connected to the central database. He demonstrated it in the field, and the enthusiasm that it met with overwhelmed him. "I saw how technology can work in the real world scenario, what the bottom of the pyramid actually needed," he says.
That experience set Segal toward Artoo slate. He had figured out what he wanted to do. He soon developed a prototype and took it to customers and field agents, who gave him feedback on how to hone it further to suit their requirements. He realized that for the end-users he had in mind, the learning curve had to be quick, and that requires high end technology.
Touch-screen, intuitive interface was more or less affordable now, and he used cloud computing to minimize costs. He also incorporated a Facebook-like friendly user experience. Further, Segal carefully choreographed the on-field feedback into the slate — slashed its size by half, reduced its weight, and included a lot of non-financial services that could spur holistic empowerment, like conversational English lessons.
Is he just another brave voice for change? Hardly. About three months ago, Segal quit his well-paying job with an international bank to launch Artoo IT Solutions.Technology can indeed reap social transformation, this ardent techie aims to prove. Artoo seems a risky business proposition, but the rewards, interms of social impact, are phenomenal and he finds it a perfect canvas for inclusive technology.
When he started work on his software solution, a few college friends pitched in. Currently, besideshim, Artoo team has Indus Chadha, Karunjay Anand, and two interns — Arunesh Mathur, and Sreechand Tavva.
Segal is walking a tightrope, navigating through something radical, pushing a force for change. Well, he is more like a window into the role of geeks, who can bridge the digital divide and usher in a better democracy.
Published in DNA