An article in the Times of India about TiE's KBE competition mentioned us too. Read the whole article below or here on ToI.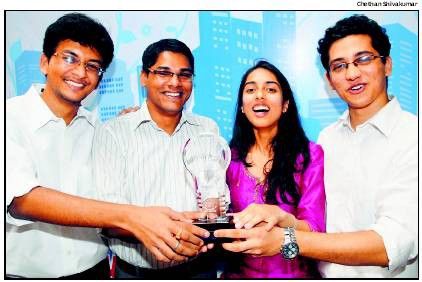 ENTERPRISING FOURSOME: Artoo team members: Arunesh Mathur, Karunjay Anand, Indus Chadha and Sameer Segal, who won the Kaun Banega Entrepreneur held at IIM-B, with the trophy in Bangalore on Saturday.
---
TIMES NEWS NETWORK Bangalore: Artoo, a technology startup that offers software solutions to microfinance institutions,has emerged the winner of the Kaun Banega Entrepreneur programme organized by The IndUS Entrepreneurs (TiE).
Team Artoo is led by Sameer Segal who has been recognized as one of Asia-Pacifics most promising young social entrepreneurs by the Paragon100 Fellowship. Also on the Artoo board are Karunjay Anand, Indus Chadha and Arunesh Mathur.
Four other teams will also have access to VC/angel investment community to take their ideas forward. These include Tenschools, to help parents and students discover schools and colleges that are best for them and apply to them from the convenience of their home; Ixora Biosciences, focusing on applications of genomics to healthcare; Star Wishlist Solutions, to simplify the gifting process for the host and their guests during a wedding ceremony; and BlackGold Eco Market Watch, to address a social menace through social entrepreneurship.
The entrepreneurial simulation exercise was conducted at the Indian Institute of Management-Bangalore on Saturday. TiE received over 140 applications from entrepreneurs from across the country. Later 35 teams were formed, before it was shortlisted to 15 teams and finally to 5 teams. These five teams of entrepreneurs were given an opportunity to present their business ideas in front of a large audience of venture capital investors, angel players and highnetworth individuals and a four-member jury comprising of Subrato Bagchi, co-founder of MindTree, Vinita Bali, MD of Britannia Industries and Sudhir Sethi, CMD of IDG Ventures.
Each team was given an imaginary fund of Rs 1 crore, which they could utilize to develop their business including team formation, capital costs and customer support. Pradeep Kar, president of Tie-Bangalore said the programme initiated in March was designed to stimulate and nourish the entrepreneurial spirit of individuals and give them an opportunity to indulge in a real life thrill of team building and company creation.
Published in Times of India